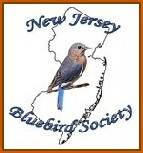 Leo Hollein: Tree Swallows Thrive -Bluebirds Struggle view full report
Weather has a major impact on wildlife including birds. However, not all nesting birds in the Refuge were
impacted in the same way this season. The winter of 2013/14 was very harsh. It was bitterly cold with many
significant snow falls. The weather even had a negative impact on the US economy as the Gross National Product (GNP) actually decreased in the first quarter of 2014. Both tree swallows and house wrens are migratory and spend the winter far to the south. Their nesting populations were not negatively impacted by the winter weather. House wren nestings actually increased significantly this season. Bluebirds are partial migrants. Some spend the winter in the Refuge and others are short distant migrants. The harsh winter evidently reduced their population significantly as the number of pairs of nesting bluebird pairs in the Refuge declined by about 20% versus the previous nine years. The biggest decline in bluebird nestings from 17 to 7 occurred in the boxes in area around the Visitor Center. This area has the best bluebird habitat. More bluebirds may have tried to over winter in this area and not survived. Figure 1 is a female bluebird found dead in nest box in March.
Allen Jackson view full report
Even though more boxes were added for the 2014 nesting season, production numbers were down - not alarmingly significant but still significant. For the trail monitors, residential sites and my bluebird trail, a total of 1074 young were banded. Another 100 fledged that did not get banded. In 2013, 1182 were banded with a total of 1300 fledging.
John Layton: Bluebird report 2014 view full report
John is reporting on four sites. Near home - 61 boxes, E.B. Forsythe N.W.R. - 36 boxes, Fred & Annette Scherer, Germania section, Galloway Twp - 79 boxes, Jack & Jesse Conner, Stockton College - 24 boxes.
All sites: total for 2014 season
Eastern bluebirds 500
Tree swallows 145 (100 Forsythe)
House wrens 39
Tufted titmice 9
Chickadees 7
*Final note: E.B. Forsythe is overrun by tree swallows & house wrens. Competition is increasing