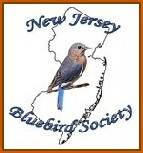 2013 – NJBBS Trail Results View complete report
Collectively we are a very varied group and our individual nest box trails reflect that well. From golf courses, to farms, to water retention basins, to school yards, to local parks, to state parks, to a national wildlife refuge, to people's yards, to forest areas, to roadside fields we place our nest boxes and monitor them through the nesting season beginning in March and running through August. Our geography and methods vary somewhat but our goal is the same: To increase the Bluebird population. A side effect which might not be readily apparent is other cavity nesting birds also use the nest boxes such as Chickadee, Titmouse, Tree Swallow and House Wren which is fine since they are all protected species. Our collective results in 2013 again exceed 2,000 with 2,058 Bluebird young fledged. Individual trail reports are listed in the complete report, however many more not named assist in this effort.
2012 – NJBBS Trail Results
All trails did well in 2012 with the first Bluebird eggs observed in March and last Bluebird to fledge did so in early September. There was some issue with cold temps in April and then hot, hot in July. Much of our activity and members are in south and central Jersey (Atlantic, Burlington, Cape May, Cumberland, Gloucester) but we also have trails and members in Monmouth, Morris and Union counties. Our trails are scattered over a wide area. I have two trails and the annual driving required for 20+ visits is about a thousand miles each with a lot of hiking as well. Some have only one or two boxes but that could be just as important to Bluebirds and in this state could be a large overall factor. The nest boxes appropriate for Bluebirds attract other cavity nesters and they are welcome however for this report our focus will be on the Eastern Bluebird. Quite a few people are directly involved and if I start listing all I'm sure to miss some so I'll just leave this general. Of the Bluebird trails we are personally involved in the fledge count is just over 2,000 and that is in one of the most densely populated states. Many Chickadees, Titmouse, Tree Swallows as well as House Wrens fledged too. Some boxes remain empty and some nests are destroyed. This is duly noted and adjustments or relocating might be warranted. A clear cut area is great for a few years but as the trees continue to grow Bluebirds move elsewhere. They are extremely versatile though and all that is needed for duplication is a good nest box in a suitable area. Our thanks goes out to all who help in any way with this effort as well as those who provide access to nesting sites in their yards and on their property allowing us to tramp through checking boxes each week.
Two officers of the NJ Bluebird Society are registered bird banders (Allen Jackson and John Layton). Between them 1,296 Bluebird young were banded. This helps to keep a finger on the pulse of Bluebirds in NJ. Presently the population is doing very well.
There are so many ways success can be measured with this type of activity it's difficult even to know where to begin. I do think for most of us a close association with nature and then simply seeing or hearing Bluebirds is all the thanks that is needed. Good luck to everyone this year, the new nesting season will soon be upon us.
NJBBS Results: 2013, 2012,