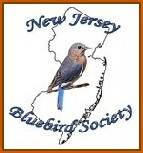 Nestbox Plans: Below are three box designs recommended by our President.
Click for printable versions.
1) NABS Nestbox
3) X box
NABS website <click for more plans
Notes from our President on Boxes:
BUILDING OR SELECTING A BLUEBIRD BOX
When deciding to put up a bluebird box mak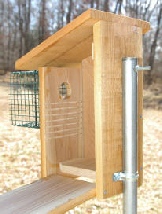 e sure to select a box that meets design standards, protecting your bluebirds from predators and weather. The ones listed here are long time favorites and recommended for use.
1) Avoid buying a box from a commercial store where they may not be knowledgable about bluebirds. The boxes can be expensive, do not meet design standards, and were probably built by people unfamiliar with what is important for bluebirds. Just any old box is asking for trouble.
2) Many NJBBS members have boxes available and are agreeable to conduct on sites to insure the box is also placed in a good location.
3) The type of box and mounting pole will determine if predator guards are necessary.
Building your own box is more difficult than expected. Use a wood that is weather resistant (western red cedar, atlantic white cedar), the proper thickness (3/4"), and build it to specifications, especially the roof. The roof is one of the most important features of a box, providing safety from predators and protection from weather. If the design calls for a 10" roof, make a 10" roof.
MOUNTING INSTRUCTIONS
There are also various options to mount your bluebird box, for example: 3/4" electrical conduit pipe or 6' heavy duty T-posts. It is recommended you coordinate with a person knowledgeable about bluebirds. Conduit pipe may not require predator guards if properly installed and the surface is kept smooth. 6' heavy duty T-posts have advantages but most certainly require predator guards. See the 2 articles Common Sense Bluebird Management and A Full Complement of Partners for more information.